It's been anything but a typical year for our graduating class but they did manage to keep an important tradition alive – utspring. Utspring is the Swedish word for when graduates, in their "studentmössa", run out through the doors of their school to an awaiting crowd of cheering relatives and friends. There are funny placards with baby photos, thousands of photos snapped, and lots and lots of congratulations. Working within the confines of pandemic restrictions, our grads did not have to miss this important milestone and the smiles show how meaningful that was.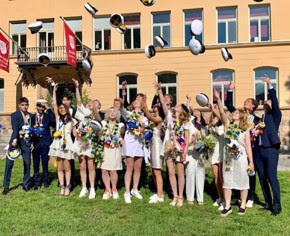 Of course, utspring was not the only time the grads had to be flexible this year. Like all of us, the students have been making sacrifices, learning to do things in new ways, and working hard to stay safe during difficult times.
According to Jarno Ampuja, DP Coordinator, the 2021 graduates may even benefit from the experience long-term by being a little extra prepared for the challenges ahead:
"The Covid-19 crisis forced this year's grads to adapt to continued uncertainty and to cope with additional difficulties and challenges. They had to adapt to distance learning, which requires a more proactive, independent, and mature mindset than in-class learning. They managed to do that and I think it is a spectacular achievement."
No doubt this generation will have a little extra steel in their backbones. But for right now we wish them a fantastic and relaxing summer and the best of luck in their future endeavors.
Mr. Ampuja says, "I am so proud of them both as a cohort and as individuals. I know they will find their way in their futures the same way they did during the past year."
---
The SIS Alumni Network puts you in touch with old classmates, opens doors for networking, and keeps you connected to your beloved school. Click here to sign up as a graduate and here to sign up as a relocating student (parents of younger students are encouraged to sign up on their behalf).