Part of the SIS 70th anniversary impact series.
Openness to the world is a value woven into the very foundation of SIS, inspired by its international community and by the school's vision of preparing students for the challenges and responsibilities of global citizenship.
SIS has more than 10 000 alumni, settled in more than 100 countries around the world. It's not surprising that they have had a strong impact on their environments, both local and global. And it is wonderful to know that they have fond memories of SIS.
We caught up with some of our fantastic alumni to hear their reflections on SIS and learn more about their lives and careers after leaving the school.
'You are lucky kids. Make the most of the privileged international environment,' is the advice of Gaia Girardelli, who studied at SIS from 1975-81. After leaving the school she returned to her native Italy to complete her high school studies, before heading to the UK to study for a degree in Management. She has gone on to build a busy and varied career in the tourism and telecommunications sectors, where she says the language skills and international outlook she gained at SIS have been extremely useful.
Gaia remembers her time at the school very fondly, reflecting on the fun she had and the strong friendships she made. Imprinted on her memory is the bravery of her friend Saadia, who, having been stung on the eye by a bee, made 'no fuss'. 'I will never forget how her courage inspired me,' said Gaia.
For Alice Jonason, SIS was 'my home for ten years'. She studied at the school from 5th to 12th grade, graduating in 2012. A few months after graduation, she started working in the main building reception, and then as an admissions assistant until 2014.
Alice now works with official crime statistics at The Swedish National Council for Crime Prevention, as well as studying for a master's in Statistics at Stockholm University.
'I'm grateful to SIS for many reasons. I didn't know English when I started in the 5th grade, but at that age you learn so quickly. Being fluent in English has really helped me in my studies and later in my career, even though I've studied and worked in Sweden. Also, the IB programme really prepares you well for further studies,' she says.
Like so many alumni, Alice's very fond memories of the school extend well beyond its academic programme. 'SIS is truly an amazing school in so many ways, with classmates from all over the world and the best teachers and staff…,' she says. Her parting advice to current students at SIS? 'Just enjoy!'
Dr Alexander Ahl was a student at SIS between 2007-9. His time at the school was short, but had a considerable impact: ''It gave me a passport to study a subject that I was passionate about, and follow my interests,' he says. Having gained his IB at SIS, Alexander went on to a degree in Human Health, a master's in Human Anatomy and a PhD in Biomedicine. He is now working as a Post-Doctoral Research Associate at Karolinska Institutet in the field of diabetes research.
SIS's passionate teachers clearly make a major impact on their students. One alumna, Heidi Abirached, remembers her Math teacher Ms Zwickert (now Öman, SIS Upper School Principal) in particular, whose efforts to help Heidi overcome her struggles with the subject ended up teaching her a valuable life lesson.
'One day she sat me down and told me, you aren't learning for me, for your dad or for a grade. You are learning for yourself so take this method and use it on something you know. The point is not for you to be a Math wizard but to be independent and be able to do things and solve things by yourself – this essence of independence and being a problem solver really hit hard, especially as a woman', says Heidi.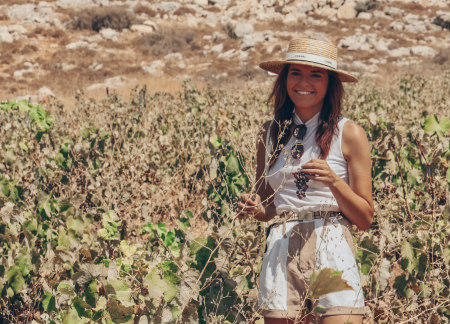 She has gone on to have a fascinating career. Following a bachelor's degree in Paris, she studied for a master's in food, culture and mobility and subsequently travelled to Lebanon to support local producers to promote their products during the economic crisis there. She is now a food consultant who helps with communication, photography and PR for various wineries and other unique food producers.
She says that studying at SIS, and careers day there, in particular, helped her to understand that careers do not need to follow a linear path and that's it's ok to change your mind.
She extends the following advice to current SIS students: 'It's ok to change your mind, it's ok to try different career paths, it's ok to not know exactly what you want to do at the age of eighteen.'