SIS sings on through Covid
Even though it has been a disrupted year, we're thankful that the traditional SIS parade for United Nations Day went ahead on 25 October, accompanied by the recording of an online concert led by Kimberley Akester, our inspiring Extra-Curricular Music and Events Facilitator.
Throughout the pandemic, one of the things that have really uplifted our community – students, staff, and parents – is music.
"Music is such a significant part of school life," Kimberley says, "because it's important to show our best sides creatively as well as academically."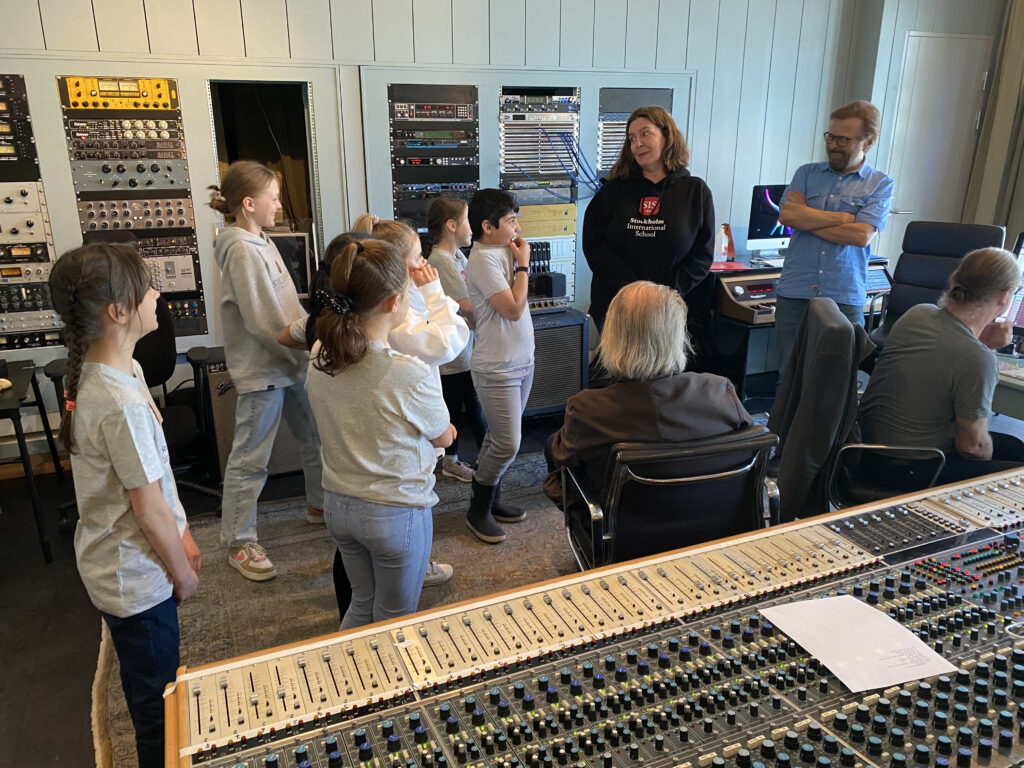 As a professional singer and performer, Kimberley has traveled the world. She's made Stockholm and SIS her home for the last 19 years where she not only runs our instrumental program and school choirs but is also active in Stockholm's community of performers and music-lovers.
When Covid-19 restrictions stopped live performances across Sweden and most of Europe last year, she made sure the music didn't stop here at SIS, navigating restrictions by splitting our Primary School choir of 65 children into two smaller group choirs. The pandemic could also have spelled the end for our popular parent-teacher association choir, but Kimberley recorded all the vocal parts so that each member could sing along at home and still feel part of the ensemble.
"I felt we needed to keep the PTA choir going," Kimberley explains, "because so many people belong to it, from across the whole school community. Even our Director Marisa puts aside an hour in her calendar to join in." We're pleased to report that the choir is now rehearsing in person again – albeit socially distanced – in the school Auditorium.
Despite the pandemic, 2021 had plenty of musical highlights, including Grades 4 and 5 choir members appearing in an ABBA documentary for Dutch television. The students sang 'I Have a Dream' at Nalen with some of the original ABBA musicians, and also met up with SIS choir members who'd sung on the track back in 1979!
Last term ended fittingly with a moving video performance which Kimberley put together by recording every child's voice in the Primary school, plus the PTA choir and music teachers. "I basically ran around for several weeks with a mic in my hand!" she recalls. "The performance was on the theme of unity, as we couldn't get together as a school. It had been a tough year and we wanted something to represent a snapshot of the whole school."
SIS Spirit Fund support
In 2019, Kimberley masterminded the magnificent concert at Johannes Church to launch our annual fund, the SIS Spirit Fund. A grant from the Fund last year enabled her to invest in a new digital lighting board and external lights for the Auditorium, where many school performances are held.
"The SIS Spirit Fund allows us to do some of the extra things that aren't in the school budget," she explains. "Lighting is extremely expensive, so last year we were very grateful for the opportunity to overhaul some very old equipment! Thanks to the fund, we're going to be able to invest further in Auditorium lighting this year, which is brilliant news."
In more good news, Kimberley is optimistic that live performances will be up and running again in school by the end of the year. We can't wait to welcome our audience back!
Find out about the impact of the SIS Spirit Fund and how you can play a part