Welcome to the Alumni Get ToGather with SIS alumna Amy Wood!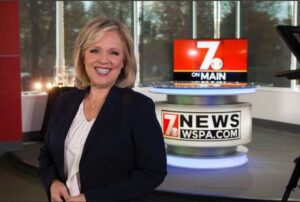 Amy Wood is an SIS alumna and an Emmy award-winning Evening Anchor "7 News at 6" and "7 News at 7" plus Carolina's Family at 4 at WSPA TV.
Amy Wood wouldn't be the person she is today without her international education. In the late 70s, she moved with her family from the US to Stockholm and – like many of those who have passed through our big, wooden doors – had her entire worldview changed. 
Though she was only in Sweden for a couple of years, they were critical ones. As a young teenager, her experience singing with ABBA on "I Have a Dream" and later touring with them confirmed for her that she loved performing and being in the spotlight. 
Being invited to do jingles for the local radio station, FMAK, revealed that she had a voice for broadcasting. Having Iranian friends during the fall of the Shah showed her that she was interested in global events. Being exposed to the diversity of our international school convinced her to pursue a university experience that would push her boundaries.
Today she is an Emmy-award-winning news anchor in South Carolina. She has been on the cutting edge of integrating reporting with new technology. And she has steered her own children's education to be globally-minded based on how impactful her experience was at International School of Stockholm.
We are delighted to welcome Amy to our 4th Alumni GetToGather, where we will reminisce together about Stockholm in the 70s and 80s and find out more about her exciting life path. Join us by registering to attend the event below!
Look who popped in to say hi!

Programme:
5:00 – 5:05: Welcome address by Ilhem Bouroucha, Community Engagement Officer
5:05 – 5:10: short update regarding the school by María "Marisa" León, SIS Director
5:10 – 5:35: Interview with Amy Wood
5:35 – 5:55: Q&A and discussion
5:55 – 6:00: Closing remarks from Ilhem Bouroucha, Community Engagement Officer
We look forward to seeing you at the event!