Registration is now closed. Please contact the teacher trainers directly with questions about the workshop.
Kids don't come with a manual! Bring out the best in your children and yourself with our upcoming Positive Discipline workshops.
For those who attended the Joy Marchese seminar on January 19, you'll know just how constructive this approach can be. This is your chance to dive deeper!
Learn how to: 
Be effective and have fun as a parent
Discipline with kindness and firmness
Help children become responsible problem solvers
Reduce power struggles
Build a home of cooperation and mutual respect
In this six-week course, parents will explore their family's challenges and goals, gain a general knowledge of Adlerian Psychology, and learn the principles behind Positive Discipline. Together with our trained coaches, you will find ways to build cooperation and mutual respect with your child using Kind and Firm Parenting. To learn more about the philosophy of Positive Discipline, visit the official website.
The workshop will run via Google Meet for six consecutive Thursdays (except during Sports Break and Spring Break). Each workshop is limited to 20 participants and spaces are first-come, first served.
Please note that each of the four workshops (A, B, C, &D) are all the same, we are offering different times in order to try and accommodate as many parent's schedules as possible.
Workshop D – Thursdays 16:00-17:30: March 18 & 25, April 1, 15, 22, & 29 with Sarah Arsovski and Sarah Kerwin.
Sarah Arsovski s.arsovski@intsch.se 
Sarah comes originally from the U.S. She has been teaching in middle and high schools for 15 years and since January 2014, Sarah has taught MYP EAL at SIS. She has two children, ages 10 and 13. Sarah attended the Positive Discipline for Classroom Teachers workshop in August 2020 and went on to get certified as a Parent Workshop facilitator in December.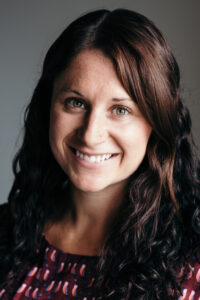 Sarah Kerwin s.kerwin@intsch.se 
Sarah is originally from Canada and has been teaching internationally for the past 10 years. She has taught in Canada, Mexico, Italy, and Sweden and has worked with every grade level from EY3 to Grade 8 as a classroom teacher and as a Library Media Specialist. She began her journey with Positive Discipline in August 2020, learning strategies to implement in the classroom, and completed the parent workshop training in December. She has one energetic 1.5-year-old daughter and is excited to implement Positive Discipline strategies at home and at school.