This year's reading week proved as involving and enjoyable as always, as our learning commons team and teachers conjured up ways to get the most fun out of the written word (and the well-drawn graphic too).
It was Roald Dahl who said
"I have a passion for teaching kids to become readers, to become comfortable with a book, not daunted. Books shouldn't be daunting, they should be funny, exciting and wonderful; and learning to be a reader gives a terrific advantage."
Well, class 6C will be very much at an advantage then, because they won the tower of books challenge, reading more books than any other class.
Students of all ages also got insights into how stories are created and told through books. Primary School had a visit from author Linda Ravin Lodding, who talked about her book Flipflopi, explaining nhow the text and images developed and changed as the book went through the editorial process on its way to publication. And of course, she read from her work, by far the most entertaining aspect.
Middle and Upper School also heard about the road to publication from SIS authors, in a panel discussion curated and moderated by SIS students themselves. The panel were asked about how they come up with their stories and the research they did for them. They also spoke about the practical and creative challenges of writing and coping with rejection when publishers aren't interested. Undoubtedly some students who entered the auditorium as readers emerged as would-be writers.
In the Johannesgatan building, classroom doors were decorated with literary references and an abundance of creativity. Grade 5 students chose their favourites, making the following awards:
Most Creative Door (Room 26) 3V
Award for Student Involvement 3P (Room 27)
Overall Impact Award (Rooms 11/19) Grade 1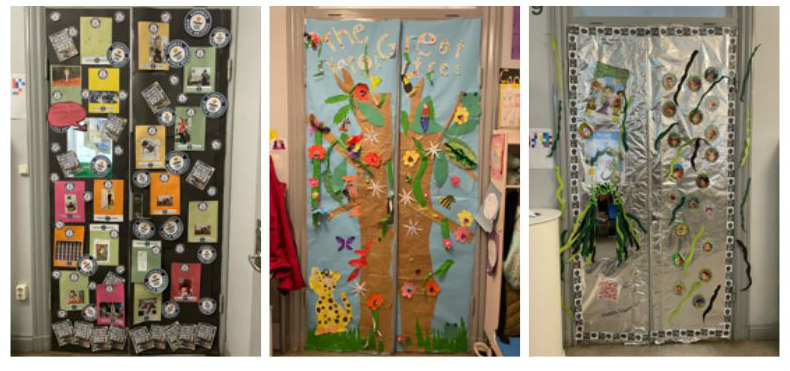 To round off the week with some robust fun, class 6C got to play a vigorous game of bubble ball with nominated staff on the Friday. On a hot day, it proved quite exhausting. I imagine afterwards everyone just wanted to relax and curl up with a good book!