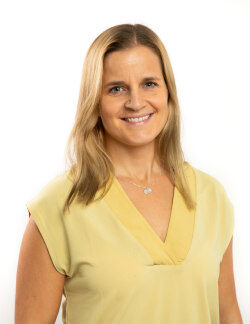 Anneli Thompson
When asked where Anneli comes from…it's always a difficult question to answer, as many at SIS experience.
Born and raised in the beautiful mountains of Lebanon, to a Swedish father and Armenian mother, Anneli was surrounded by Lebanese and Armenian neighbours, went to a French-speaking ballet school and spoke four languages fluently before she started kindergarten. During the worst part of the civil war in Lebanon, her family relocated to Amman, Jordan where she was the 'Swede' who spoke Arabic with a Lebanese dialect.
Graduating from an arts and sports specialist high school in Boulder, Colorado, she finally moved to Sweden for the first time in her life at age 18. She toured Europe with a performing arts school and decided the arts was her passion and so she moved to England to pursue her love of dance and theatre. She graduated with honours, pursued a dance and theatre career in London and decided, having just got married to a Northern Irish rugby player, she wanted a more stable environment. Anneli knew she loved the arts but didn't realise she would love teaching. She got employed as a dance and drama teacher at Stantonbury Campus, one of the largest secondary schools in England. This prepared her for a career in teaching which she has never looked back from. She loves watching her students develop as they devise theatre and choreograph dance in her lessons.
Anneli is usually seen running between campuses, pulling her orange trolley filled with props and costumes to the various events she is often directing. When not pouring her love of theatre on campus, she loves to adventure with her family wherever that might be.
Anneli joined the SIS Arts department in 2013 and has shared her passion for the arts by teaching MYP Drama and Enrichment Dance as well as organising annual visits to the local theatres and opera houses which she will continue to do at every opportunity. Anneli is also coordinator of Erasmus+ and it's cross-cultural projects at SIS.