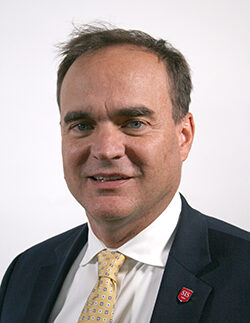 Michael Moore
As a professional educator, Michael Moore believes the role of education is to prepare students for the world in which they will live. His view is that "schooling" is not only academics but about human flourishing.
Michael's educational calling was inspired by his mother, a math teacher. He started his career as a Special Education Teacher in Ohio, but over time he has taken on various roles: IB teacher, CIS team accreditation leader, ECIS workshop facilitator, and as an educational leader. Michael comes from the International School of Düsseldorf as a Senior Academic Leader and held previous principal roles in Sweden, Ghana, and Kuwait. He received his BA from Ohio Wesleyan University and an MEd in International Educational Leadership from Lehigh University.
Michael describes himself as an educator, athlete, adventurer, enquirer, and a lifelong learner, but foremost, a family man and father of two. Subsequently, as a school leader, he can better empathize with parents regarding child development, safety, social interactions and the like. He sees the IB learner profile to be a framework for lifelong development, and endeavors to nurture those characteristics in his children, in students, his colleagues, and himself.