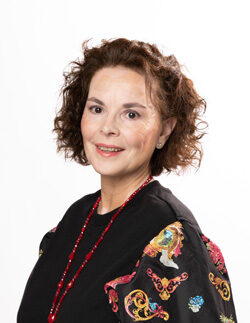 Paloma Ruiz Nunez
Paloma has spent equal parts of her life teaching and learning. Right out of high school, family tradition brought her to the faculty of Law at Universidad Complutense in Madrid, where she obtained a Juris Doctor degree and a Diploma in Fiscal and Accountant Advisory. The twists and turns in life took her to Uppsala University where she began practicing as a lawyer and completed her first Masters degree (in International Law).
However, Paloma's true calling in life was being a docent and so the twenty-five year old decided to take her first steps towards making this dream come true. She changed the Faculty of Law for that of Philology, and four years later she graduated with an Integrated Bachelors and Masters Degree in Spanish. At the same time, and to better understand her future students, she got a Diploma in Psychology. Not having satisfied her thirst of knowledge, Paloma began her Doctoral courses in Spanish Literature at the University of Gothenburg.
She transferred to the University of California, Berkeley where she completed her thesis alongside Professor Dru Dougherty. Twenty-one years, two kids and a marriage later, she returned to Universidad Complutense, where it had all begun, and studied another Masters Degree, this time in Spanish Language and Literature. Currently, Paloma is adapting her thesis to the Spanish system where she hopes to defend it in the close future.
Paloma joined SIS in August of 2016 and has an extensive background in different educational systems including the Spanish, the Swedish as well as the IB programme, from middle school and up until undergraduate level. Prior to moving to Stockholm, she taught at the International College Spain in Madrid for eight years both in the MYP and the IBDP. For the past seven years, Paloma has also been an official IB examiner for several components of the courses Spanish B SL and HL and Spanish A Literature.
Aside from the school environment, Paloma has edited books in Spanish as a Second Language and is specialized in Spanish for Specific Purposes such as Legal and Business Spanish. She is also an official DELE and CEMS examiner.
In her teaching, Paloma lives by Howard G. Hendricks' words "teaching that impacts is not head to head, but heart to heart".