Campus Expansion Coming in August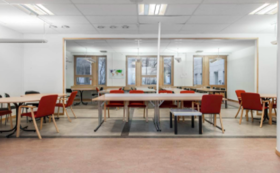 As you are likely aware, there has been a steep increase in demand for international education in the Stockholm region over the past few years and the waitlist situation at SIS has become increasingly acute.
We are therefore delighted that we have been able to secure additional space for the 2021/22 academic year and as a result, we are expanding in our Primary, Middle, and Upper Schools!
The new facilities are located on Olof Palme Gata – a short walk from our current facilities – and will be home to our DP students in grades 11 and 12.
This means that we will be able to open up additional classes in Primary School (one additional class in grades EY4, 2, 3, and 4 respectively) and Middle School (one additional class in grade 6) and an additional six seats in grade 11.
If you or someone you know is interested in admission at SIS, please see our Admissions page or contact the Admissions Team​.