Warm welcome to the SIS Digital Nobel Event!
We hope you're looking forward to the Nobel Event on the 7th of December as much as we are!
Haven't registered yet? Register through the following link!
Every year, drama students perform the character of a Nobel laureate at the event. They learn all kinds of information about the laureate they are playing and answer questions posed by the guests at the event.
As you know, the Nobel Event is going to be digital this year. So, this year our drama students need your help to pose questions that will get them into character and let them perform!
Please make sure you send in some questions to the students about their laureate by this Wednesday evening. The students will record a video at the end of the week where they get into character and answer all the questions.
Take a look at Instagram or Facebook to see our drama student Nobel laureates and pose your questions!
If you don't have social media, please ask your questions through this form and we will post them on social media for you!
Who will be speaking this year?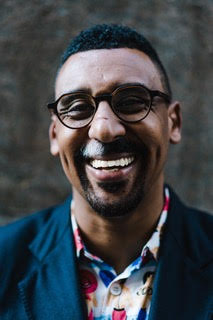 This year, we are very pleased to present to you Barakat Ghebrehawariat, better known as the Democracy Agent, who will deliver his fascinating lecture into how and why we say what we say – "Let's talk about talking. From a language of exclusion to a language of inclusion".
Barakat Ghebrehawariat is an entrepreneur who uses communication as his compass and democracy as his driving force. Barakat is a lecturer, advisor, and educator with a long experience of working with diversity from a communication perspective.
Today, he runs the change agency Demokrateam and is a frequently hired lecturer, process leader, and expert advisor. Barakat also sits on the board of Orten.io, is a member of the transparency council at the National Museum, and a member of the Reach for Change advisory board.
Event details:
Read more about Barakat Ghebrehawariat and the event and register through the following link.
Date: 7th December 2020
Time: 19:00- 20:00 CEST, doors open at 18:45.
Venue: Virtual, you will receive a link on the day of the event