Positive advantages
12 OCTOBER 2023
Middle School Principal, Michael Moore, was the driving force in introducing Positive Discipline to SIS back in 2020. Positive Discipline (PD) is a model for interaction among people, with valuable applications in the classroom and the home. The concept was rapidly embraced by Michael's colleagues who undertook training and enabled the School to become a fully accredited Positive Discipline Lab School. That accreditation was recently renewed so now seems like a good time to ask how PD is making an impact in our teaching and learning, and in the home life of families who have undertaken the free workshops that SIS has offered.
Floor Ten Half Moore and Cathy McNulty are two of the SIS teachers who have been instrumental in delivering PD methods and running workshops for parents. How does it play out in the classroom? 'I think one of the first things to say' begins Cathy, 'Is that PD is not a permissive approach as many people think. It is actually about firm parenting but with kindness, and mindfulness of the feelings of the children.'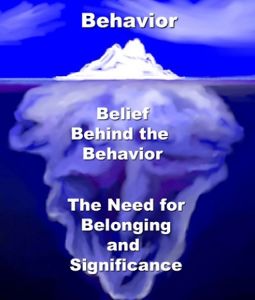 Floor adds to the thought: 'We accept in so many contexts that we learn from our mistakes, and we should remember that behavioural mistakes are an opportunity to learn too. When we are introducing the concept of PD we often use an iceberg metaphor. On the surface is the behaviour we see. Under the surface is what the child is feeling that makes them behave in the way they do. Deeper still is their motivation, which often springs from a need for belonging and recognition.'
A DESIRE TO BE RECOGNISED
Floor and Cathy explain that practising PD in the classroom means being constantly aware of those motivations and validating the child's desire to be recognised. 'But we do it with encouragement rather than praise' says Cathy, 'Allocating small jobs in the classroom for instance, can instill a sense of pride and achievement and build independence.'
'It's about being in the moment, thinking how we can give the child recognition and a sense of ownership without offering them unlimited choices' adds Floor. 'To give one example – you can offer choices while still being firm by asking ´´Do you want to put on your coat or boots first". This gives the child a voice in the decision-making, but leaves no doubt that coat and boots are both going on. You can take that basic approach and adapt it for different ages, situations, and contexts. But it is recognising that set of possibilities in the moment that allows you to apply a PD approach.'
Mia Nevado is one parent who signed up to PD workshops when they were first introduced, and she has since become an enthusiastic advocate of their value. 'When I got the email from the School offering the workshops I was immediately intrigued, and delighted that SIS was opening up this interesting approach to parenting and social interaction.'
Mia particularly enjoyed the fact that the workshops brought people together, allowing her to compare her experience with others and feel reassured that she was not alone in having to navigate everyday challenges as a parent. 'There was a wonderful feeling of sharing and openness and, once everyone felt comfortable with each other, a real willingness to share experiences, not only in conversation but through role-play too.'
LOOKING THROUGH THE CHILD'S EYES
Mia particularly recalls a workshop where the participants got to experience a situation from the eyes of the child. 'I guess we've all done it, you're playing with the kids and perhaps decide to multi-task and read a few emails. Putting yourself in the position of the child you became acutely aware of the sense of disengagement and disappointment that the child feels when you are no longer giving your attention to something you started together.'
And Mia's big takeaway from the workshops? 'I've learned to be a better communicator' she says. 'I am more aware of the language I use, and how I say things. I've learned to explain the 'why', and the positive benefits of explaining rather than just instructing. I've also become more self-aware and learned that sometimes doing things for your kids that they could do for themselves is not necessarily the best parenting.' Mia feels she felt the benefits of the workshops very quickly, and recommends them to all SIS parents.
Floor sums it up succinctly: 'Parents who have done our workshops often walk in thinking how they can change the child, but they walk out thinking how to change themselves.'