At the heart of every institution is its community. Our school is no exception. SIS has thrived for nearly 70 years, because there has always been a committed community of parents and teachers that have come together over the decades to support SIS in a variety of ways. There is an unfailing chain of kindness, enthusiasm and values passed on from one generation to the next. Today we are part of that chain. It's our time.
This is a story about how that responsibility is being taken seriously by today's community and how proud and thankful we are to be part of it.
Last year, Technology Integrator Mmamotlhabi Tlailane and Library Media Specialist Katalin Pongo put their heads together and conjured up an idea. They decided to innovate the library space to further improve SIS's learning environment. They had a vision to start a Learner Commons, where students could use their hands and minds to solve challenges, create their own knowledge, contemplate real-world problems, and reflect on these experiences in a continual circle of learning.
Mmamotlhabi and Katalin put together a proposal to bring the Maker Space concept to SIS as part of the Learner Commons. They presented their vision to the Senior Leadership Team (SLT), who very quickly understood the value of the ideas they were hearing. But it's one thing to have the vision to improve the school and quite another to make it happen.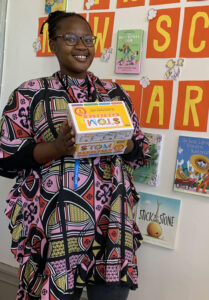 However, we at SIS are incredibly lucky because we have the ability to make things happen because we have you. Thanks to generous donations to the SIS Spirit Fund, given by our very own community, the SLT was able to make the financial commitment to bring maker spaces to SIS. Simply put, the school's new annual fund, the SIS Spirit Fund, which was introduced last year has already started funding student experience, academic excellence and innovation, and campus regeneration. The Spirit Fund is a powerful link in the chain of kindness reaching from today into the future.
A makerspace is a collaborative workspace that has the tools and equipment to design, build, and create almost anything. Imagine a space dedicated to hands-on creativity, filled with actual things, real hold-in-your-hands things that can be used to solve, create, and investigate. Maker spaces allow students to create their own knowledge and to be reflective about how they did so.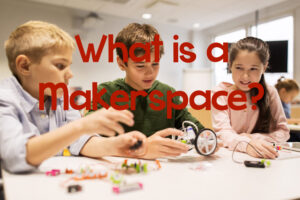 The makerspace cart usually, but not exclusively, has task cards that set challenges for students to work through in some way. They are challenged to achieve a goal, (build a wind-powered car, or create a lego-cubelet robot that senses the world around itself, or write an interactive story, or build a bridge to support 10 kilos).
How students go about reaching their goal is up to them and their ingenuity. Importantly it's not a competition, there is no "wrong" way of going about any task (as Thomas Edison famously said "I haven't failed, I've just found 10,000 ways that won't work"), or as Mmamotlhabi (less famously) said when she spoke to the Dispatch during the unboxing, "There is no failure and no wrong or right way of doing something, the interpretation is as important as the solution, it's a genuinely realistic way of learning."
"We are thinking of ways for all subject classes to use the maker spaces, especially subjects that would be least likely to use something like this." Mmamotlhabi continued, "Another benefit is the collaborative nature of the concept, meaning that SIS will also work with teacher training and other schools to build on the maker space possibilities. We are really looking forward to collaborating with other European schools and contributing to our own teacher's professional development."
Mmamotlhabi revealed her pride in the SIS community by saying that "we wanted to help our students to be resourceful, more innovative and the SIS Spirit Fund has given us that opportunity, we are so grateful to everyone in our community because through their generosity, they have actually helped to enrich the learning environment of the school. That's the whole point and we are so pleased the annual fund and our donors have been instrumental in doing this."
"Makerspaces are collaborative learning environments where people come together to share materials and learn new skills… [they] are not necessarily born out of a specific set of materials or spaces, but rather a mindset of community partnership, collaboration, and creation." Library as Incubator Project
How can I help the SIS Spirit Fund support more projects at SIS? Follow SIS on Facebook and Instagram to stay updated regarding different fundraising campaigns.
The SIS Spirit Fund is SIS's annual fund. It provides an immediate impact on our school, our students, and our community. We channel 100% of our community's generosity into promoting academic excellence, enhancing student experience and building community spirit.
Please strengthen our unfailing chain of kindness, enthusiasm, and values that makes SIS such a special place. And of course, we would like to thank everybody for all the support and generosity over the last annual fund cycle and with your help, we can raise even more this year.