Part of the SIS 70th anniversary impact series.
For students engaging in MUN – as an extra-curricular activity – the programme demands a high level of commitment for the rewarding social and academic accomplishment it delivers in return. Using learning from their everyday classes, students go on to research the topics, the countries affected, and the influences and tensions at work on the world stage. Their work culminates in attendance at one of the many international MUN conferences that take place worldwide. These are typically run as UN sessions, with position papers and debates around each of the topics.
'There is immense value in the programme for the students' explains SISMUN Co-ordinator Fehim Khan. 'Universities increasingly demand the skills that MUN nurtures. Students who have engaged in the programme for a number of years invariably improve their capacity to express themselves and to interact and cooperate with others, while also developing skills in leadership, chairing meetings, debating and preparing reports. This builds their confidence, even if they don't recognise it in themselves.'
Terry Kleinsmith, who coordinates the MUN Middle Years Program at the school, says, 'The great thing about the Model UN programme is that you see the students put into practice what they learned in class. They draw upon what they learn about history, drama, writing and so on, and come together with focus, to address a real-world issue.' Terry also places value on the 'soft skills' the students develop. 'They learn about negotiation, interacting with others and working collaboratively, and how to "read the room", a really wide range of life skills.' Most of all, he says he sees the students develop empathy, and a capacity to look at all sides of an issue.
SIS alumna Heidi Abirached, who attended the school 2010–2014, recalls how MUN had impacted her. 'I gained such knowledge – from travelling, taking responsibility, being a team player, and understanding that decisions, regardless of how small, have consequences.'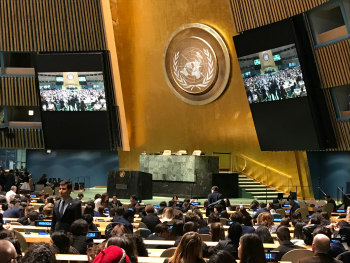 Alumnus Axel Bjallerstedt (2012–2018), who recently graduated from Notre Dame University and has a passion for business and impact entrepreneurship, also speaks warmly of his involvement in MUN: 'Through clubs and societies, including MUN, I was able to utilise and develop my leadership skills early, and set a foundation for future experiences. I see skill sets as a continuous learning process where I try to be self-reflective and actively improve as I progress in my professional career and in life.'
Fehim emphasises that making this impact on young people – and through them on society as a whole – is a whole school effort. 'For the MUN programme to be truly effective, it has to be embedded in the curriculum. We rely so much on the I&S team, science teachers, and the advisory team, to include the themes and learning experiences that equip our MUN students to understand an issue, begin their own research, and capitalise on their classroom learning in a much wider and challenging environment. It's immensely beneficial to their personal growth and gives them skills that enable lifelong learning which is so much a part of SIS's ambition for the students who come here.'