As the saying goes, 'there is no bad weather, only bad clothing'. This classic piece of Swedish wisdom was tested to breaking point at our Welcome Back Event as the rain poured and the wind blew (and took our fancy hired tents along with it).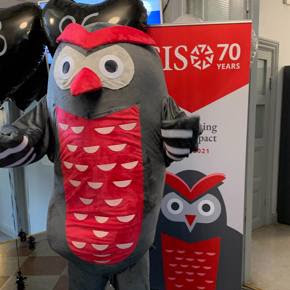 Luckily SIS staff, families, and students refused to be beaten by the elements. All involved pulled together to move the event indoors and at 12 o'clock the doors opened as planned and right on time. Even Oggi made an appearance to help us launch our 70th anniversary school year!
New and returning students and their families poured in and, while students checked in with their new classmates, everyone else headed to the auditorium for a much-needed restorative fika courtesy of our all-star Kitchen team.
As staff and families mingled and caught up the atmosphere quickly became less 'school event' and more a joyful meeting of friends old and new. Which of course is exactly how it should be.
This air of celebration and excited reunions even spilled out into the park as the event drew to a close, rain or not. In the end, the sun finally broke through, wrapping up a challenging but rewarding day in style.
And of course, it's not only the students and parents who are kicking off a new academic year, it's the staff as well. To get things going on the right foot, the week before school started the whole SIS crew spent the day team-building with a 70th-anniversary history quiz, a 70th-themed fika, and a variety of good bonding activities.
It's wonderful to have everyone back in school again, ready to face the challenges that this year will bring, to celebrate our 70th anniversary in style, and to share another year of international learning!