Part of the SIS 70th anniversary impact series.
Colleagues, best friends, a teaching dream team – Maggie Dankiewicz and Valerie Evers, aka Malerie, are educational legends at Stockholm International School.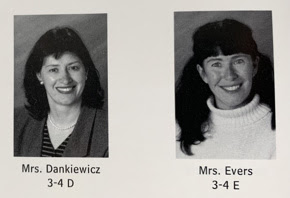 They met in 1984 while working at Tanto International School but their histories mirror even before then – both are from the north of England, attended university quite nearby each other, and taught for a bit in the UK before moving to Sweden. Between them, they've covered a variety of grade levels, from kindergarten up to middle school, and have been our 5th-grade teaching team for well over a decade now.
And they have brought a special magic to this important transitional year – when students are on the cusp of the Middle Years Programme and all of the changes that come with teenagehood. Projects are bigger, more in-depth. Expectations are high but still within reach. Students are encouraged to push themselves academically and creatively just a little bit harder than before so that they are limbered up and ready for MYP.
With Valerie's retirement fast approaching and Maggie's well underway, The Dispatch team sat down with the dynamic duo and some of their close colleagues to talk about the impact they've had on the school and vice versa.
"You'd see the ISS (SIS was called that back then) kids and teachers out in town and you could tell that it was the crème de la crème of schools," remembers Maggie about her first encounters with our school.
In 1992, Maggie got that dream job at ISS and Valerie followed a couple of years later. From then on they were an inseparable teaching team.
"We not only have the same values when it comes to teaching but also personally. We share the same humor and cultural background," says Maggie. "And of course we can snip and snap at each other, but that's just being friends."
"We socialize with our families; our kids know each other. Maggie was my bridesmaid and is my daughter's godmother!" Valerie continues.
David Osler, Primary School Principal, got his start at SIS working with Maggie and Valerie after taking over their 4th-grade class when they moved up to 5th grade.
"They were my teaching mentors back then and have remained important sounding boards for me," says David, "Whenever I want to push something new I run it by them. It's a very collaborative relationship. And having my office across the hall from them when I first became Principal was invaluable."
Beyond the academics, the team has been critical in building the larger school community. From the annual International Dinner with the 5th-grade families, to Lucia visits at the retirement home, to the exciting musical productions staged with the support of Kimberley Akester, Maggie and Valerie know how important it is to get the kids thinking outside of the classroom.
"We're a little bit old-fashioned and like to do creative things," says Maggie of the collaborations they do with Kimberley, "And events like the International Dinner let us create a connection with the parents early on in the year, which is so important."
"There's a purpose and pedagogical strategy, as well as community building, behind these kinds of events," reflects David, "They both loved doing that and that's when you know you really have something special."
After more than a decade of working with the Malerie team, Kimberley knows well the effect of their caring approach towards teaching:
"If I were to describe the impact that Maggie and Valerie have had on SIS, it would include the words loyal, creative, generous, supportive, and steadfast – to staff and children alike. I feel lucky and blessed to have worked so closely with them for so many years, to witness firsthand the impact they've had on people's lives, both young and old. That's a gift and they gave it freely, without question."
The Malerie team is also responsible for planting the seed that grew into the Nepal Project. In 2014, after being inspired at an ECIS conference, they went to the director, Rune Svaninger, to pitch the idea of going to Nepal, and before the meeting was through, he was looking at plane tickets for them.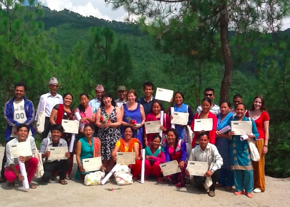 "The school has been so generous with ideas like that initial Nepal trip. They accepted it and helped us make it happen" says Valerie. That investment by the school has turned into the Nepal Project – the largest whole-school endeavour in SIS history – which has allowed our partner school, Shila Devi, to provide the children with lunches, uniforms, a new school building, supplies, and more. Not to mention the life-changing experiences SIS students have had when visiting Nepal. Talk about impact!
With all of these accolades and accomplishments, some of you might be thinking, as many have before you, "why didn't they go into administration…climb the ladder?" The truth is that they had many opportunities to do so but both felt such a strong calling to be in the classroom with their students that they never desired to make that kind of change.
"We both feel so lucky we chose to be teachers. I've never regretted it, even for a moment!" Valerie says, continuing with a huge smile about how fortunate she feels to live in Sweden and to be able to practice her profession in a school with children and staff from all around the world.
"This is what I've always loved to do. Becoming an administrator would have been for other people. Teaching was what I wanted for myself." says Maggie.
Maggie and Valerie have touched countless lives during their careers and not only those of students; the staff is as enamored with them as anyone! Even this tough-as-nails, seen-it-all Dispatch correspondent longs to be young enough to join the warm, welcoming embrace of their 2nd-floor domain.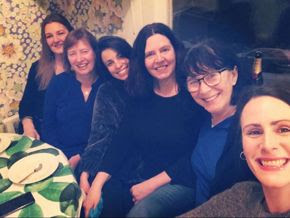 Tatiana Menezes, Primary Physical Education Subject Leader and Teacher, was the grade 5 teaching assistant from 2015-2017. "That was my best time at SIS. They became my family here," she says, "They really took me in and helped me, and not just as a new colleague but as a person."
When Tatiana got offered a job as a PE Teacher – the job she had studied and trained for – she hesitated to leave grade 5. "They pushed me to take the opportunity. They told me that they wanted me to grow even if they would miss having me as their assistant. But I still go up and visit them regularly because it's like having two moms at work!"
"Certain teachers are legacy teachers," muses David. "Education is marked by them and being in 5th grade at SIS…that's an experience that kids hold onto."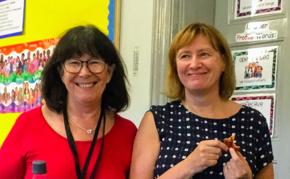 The pair both feel privileged to end their long teaching careers on their own terms, while they are healthy and up for new adventures (and both with a brand-new grandbaby). Every one of us who knew them will miss our Malerie but their good friend Kimberley summed it up best:
"I know in my heart it is time to let them go, to enjoy and embrace whatever comes next, because my goodness, they've earned it! It's the end of an era, a time of change and a new cycle of life at SIS, just as it should be, but I will hold the memories of them singing 'Aint No Mountain High Enough' close to my heart forever."
Read a sampling of quotes from the parent surveys over the years
"Mrs. Dankewicz is an amazing teacher"
"What would you regard as the most positive aspects of the school? Mrs. Dankewicz"
"Special mention to Mrs. Evers for achieving excellent results with my kids in such a caring way."
"My daughter has thrived on the structure and communication within the Grade 5 classroom, as well the fabulous care and commitment from the staff"
"The competence and dedication of the grade 5 teachers cannot be underestimated"
"We have had excellent teachers in the IPC and my son has grown confidently in his education at SIS. I am especially impressed with Valerie Evers – she makes the kids feel special which drives them to excel."