ABBA say 'Thank You for the Music' to SIS choir
ABBA's comeback album – their first in nearly four decades – was, without doubt, the biggest news in pop music this year. Now that the hotly-anticipated Voyage is out, we are thrilled to share some news of our own:
Seven members of the SIS primary school choir have lent their voices for the record!
You can hear their voices on track 3 'Little Things'.
Of course, this isn't the first time that an SIS choir has sung on an ABBA record. In 1979, the band asked the choir to sing on 'I Have a Dream' and, to this day, SIS singers have been the only additional voices ever to appear on a recorded ABBA song.
Recreating history
Fast forward to 2021, when a Dutch TV production company contacted Kimberley Akester (Extra-curricular Music and Events Facilitator) about recreating the historic moment for an ABBA documentary fronted by singer-songwriter duo Nick & Simon and presenter Kees. Kimberley and Anneli Thompson (MYP Drama Teacher) took singers from Grades 4 and 5 to Nalen, a famous Stockholm music venue not far from campus, where they performed 'I Have a Dream,' with ABBA's original backing musicians. They even met two members of the SIS choir who'd sung on the original track!
About a month later, Benny Andersson's PA emailed Kimberley to ask if SIS would be interested in bringing some students to their studio to sing on a new track. Not surprisingly, her answer was an immediate and resounding yes! Björn Ulvaeus and Benny were looking for what they described as an ethereal, pure and childlike sound, and sent over some music to look at.
"I picked eight students to sing," she explains, "but even though we rehearsed a lot, Covid meant someone was always off sick or isolating. Even when the day of the recording came, we only had seven out of the eight students available to go."
On the sunniest of Stockholm mornings, Benny and Björn welcomed Kimberley, Anneli, and our seven singers at the door of their waterside recording studios. After a quick rehearsal, Kimberley and the students put on their headphones and Anneli headed up to the box with Björn and Benny to listen. The music played, our students sang their part and – incredibly – it was done in just one take! Everyone celebrated with ice cream and cake, and took lots of photographs!
"Our students were so amazing that day," says Kimberley. "I'm so proud of them."
Anneli Thompson recounts the exciting experience, saying,
'When we pulled up to the studio, the door opened and Benny stepped out into the sunshine to greet us with Björn following close behind. Kimberley walked up to them and Benny welcomed her with, 'I believe we have met before…' and they chatted like old chums. They were so welcoming and friendly to the children and us and it was a fantastic atmosphere when we went into the studio to record. Kimberley had practiced and prepared with these kids and they looked like pro's when the time came to record the first take!
It's always an honour to work alongside Kimberley as she is pure excellence (as I strive to be). When I sat on the sofa in the recording studio, I watched as Benny and Björn looked at each other after the first take and said, 'That's it. We got it!'
Thank you for the music!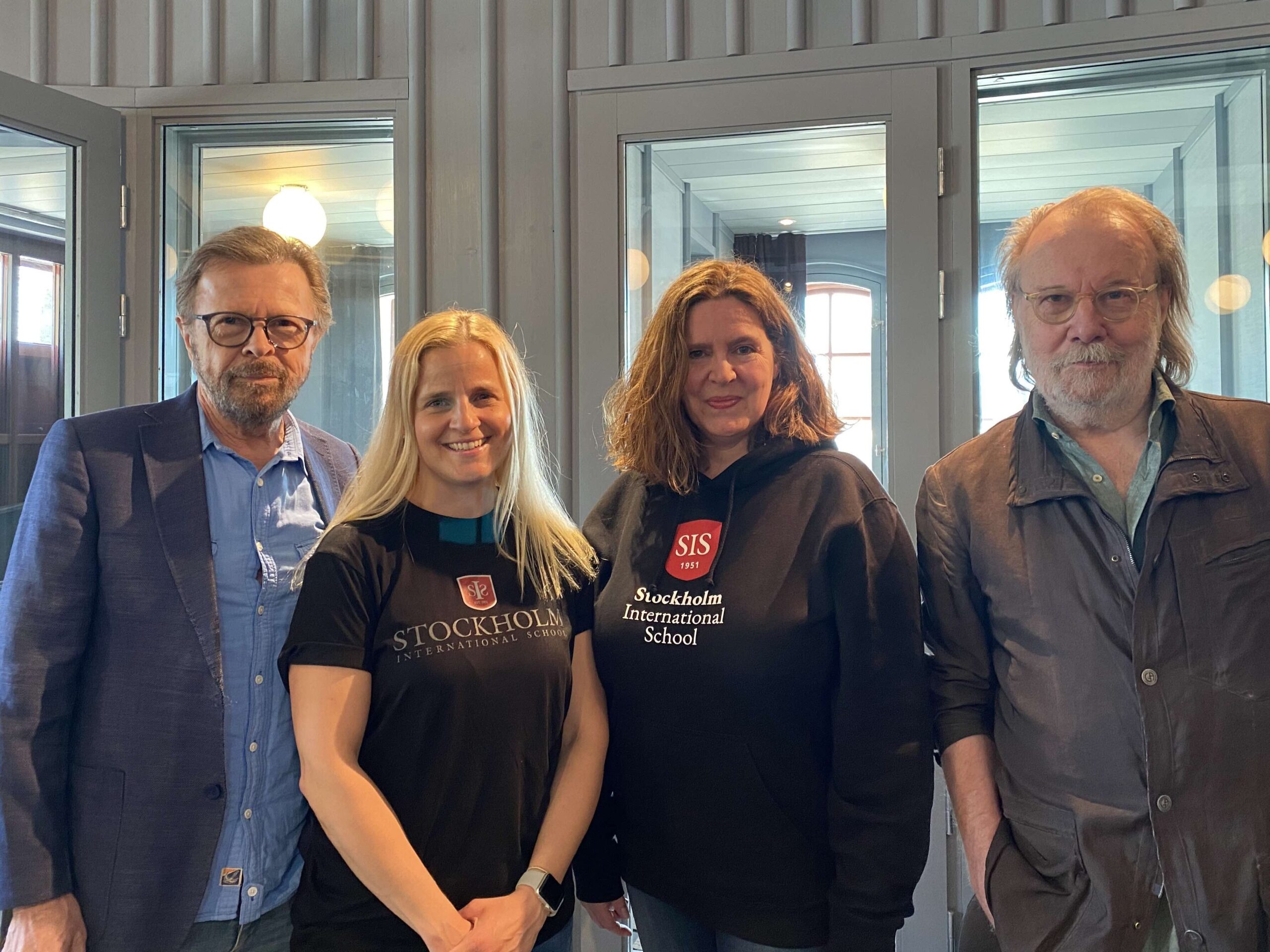 A copy of the choir's part, signed by Björn and Benny, now has pride of place in Kimberley's office. She admits that she only found out they had made it onto the album when she watched Björn and Benny's BBC press conference. "When they said there's even a Christmas song called 'Little Things', I fell off my couch!".
We're immensely grateful to ABBA for choosing to work with SIS again after more than 40 years, and giving our students and staff an experience they'll never forget. We would also like to thank the band for kindly donating to the SIS Spirit Fund this year, which will help ensure our school and our wonderful singers continue to create impact through music.